Regular Pool Hours:
Monday from 11am- 7pm

Tuesday from 11am- 7pm

Wednesday from 11am- 8pm

Thursday from 11am- 8pm

Friday from 11am- 8pm

Saturday from noon- 8pm

Sunday from noon- 7pm
​
Please check "This Week" tab under "ACC Life" to see if the pool is closing early for any events.
Outside grill will be available for food purchases Tuesday- Saturday from 11:00am- 4:00pm and Sundays from 11:00am- 5:00pm


Snack shop will be opened for novelties Fridays, Saturdays, and Sundays from 11-4pm
There's something fun for everyone at the ACC!
​
Whether you like to swim laps for exercise, participate in meets with other area clubs or simply cool off with a quick, relaxing dip, the ACC pool invites you to jump right in — the water's awesome! Both serious and recreational swimmers have two great options to choose from: a traditional, 25-yard pool with diving board, and a relaxing wading pool. Plus, ACC guests enjoy the comfort and convenience of men's and women's locker rooms, and a fully staffed cabana, complete with umbrella tables.
​
​
Youth Swim and Dive Programs
We currently offer a variety of swim programs for children of different ages including our swim and dive team which is a part of Dolphin League as well as private swimming lessons offered by our coaches. Our swim and dive programs run for 6 weeks this summer starting Tuesday, Junes 1st and ending Friday, July 16th.
​
For More Information and to Register
​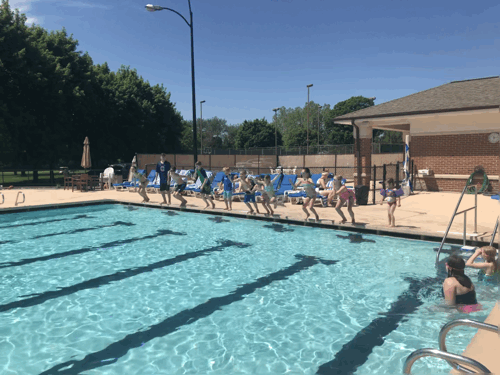 2018 Dolphin League Champions